If you have any questions about our services, please email Customer Service or call (866) 455-EXAM.
Functional Capacity Evaluations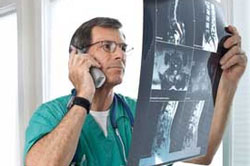 Functional Capacity Evaluations are widely utilized by Providers, Insurance Companies and Employers alike as an "objective gauge" in identifying a worker's ability to return to work following an injury as well as a tool to determine permanency. Brookside Consultants, Inc. partners with an experienced panel of physical therapists to ensure a timely, accurate and thorough functional assessment is performed and reported objectively.
Quick References Regarding Functional Capacity Evaluations:
Requests are accepted via phone, fax, email, or through the secured website
Utilized to determine the level of safe maximum functional abilities
Aides in objectively setting restrictions and guidelines for return to work
Determines if job tasks can be safely performed with modifications
Performed by NYS licensed physical or occupational therapists
May only be performed at the point of MMI
Standardized evaluation tools; normative and interpretative guidelines are attached to the report