If you have any questions about our services, please email Customer Service or call (866) 455-EXAM.
Nationwide Independent Medical Examinations
For quality-driven Independent Medical Examination reports with the industry's best turnaround time, look no further than Brookside Consultants, Inc.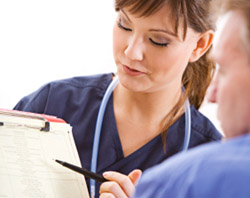 Independent Medical Examinations are performed by Brookside Consultants' panel of experienced, Board certified physicians.
Referrals are accepted via phone, fax, email or through the secured website.
Brookside Consultants schedules an appointment with a qualified provider of the requested specialty. The claim information is entered into the internal software database system which immediately distributes an e-mail of the appointment letter to the requestor. If a provider is not available that has the expertise pertaining to the referred case, the Provider Relations director will initiate the "fast track" recruitment process to locate one as a priority.
Appointment letters are then mailed to the (claimant) injured worker as well as all parties of interest within one business day of scheduling. Upon request, letters may be sent via certified mail.
A reminder post card is then mailed to the (claimant) injured worker 5 business days before the appointment. A reminder phone call is made 2 business days before the appointment. Multiple reminder phone calls can be made if the requesting party so desires in instances of high provider no-shows fees or other special circumstances.
Once the date of the scheduled appointment arrives, Brookside Consultants, Inc. initiates contact with the provider to attain information regarding appointment attendance and provide a reminder regarding report deadline expectations. If a no show occurs, the requestor is notified via email to determine if the examination should be rescheduled.
Reports are submitted within 5-7 business days of the examination. Expedited requests are accepted and accommodated on a case-by-case basis as efficiently as possible.
Once Brookside receives the provider's report, the Quality Assurance department analyzes to ensure accuracy and efficiency in addressing posed questions, and distributes the report to all parties of interest. In expedited cases, UPS shipping, faxing, or e-mailing is available. Costs of expedited shipping are determined on a case-by-case basis. To ensure that timelines are met, contact information is required at the time of request submission.
If an addendum is determined to be necessary, the Quality Assurance department requests the required information from the provider with approval from the requestor and subsequently distributes the report appropriately to all parties of interest.
The requestor is then securely e-mailed a copy of the report, in PDF format, 4 business days after it has been distributed to all parties of interest.
New York State Workers Compensation Variance/C-4 Authorization Evaluations are available upon request.