If you have any questions about our services, please email Customer Service or call (866) 455-EXAM.
Medical File Reviews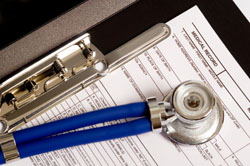 Utilizing a nationwide provider panel of expertly trained, highly qualified and Board Certified specialists
Process Overview:
Referrals are accepted via phone, fax, e-mail or through the secured website.
For the purpose of deposition and testimony needs, Brookside's scheduling department will schedule the Medical File Review with a provider in the claimant/injured workerís local geographical area. If a provider of the expertise required does not exist within the BCI network, the Provider Relations director will initiate the recruiting process
Expedited Medical File Reviews are accommodated on a case-by-case basis
Medical records are retrieved, organized by date & type, then submitted to the provider completing the requested review
Once Brookside receives the providerís report, the Quality Assurance department reviews for accuracy and thoroughness in addressing requested issues. The report is then distributed to all parties of interest. In expedited cases, UPS shipping, faxing or e-mailing to all parties is available. Additional costs for expedited shipping are assessed on a case-by-case basis
If an addendum is necessary, the Quality Assurance department will request the required information from the provider with approval from the requestor. Once completed, the report also be distributed to all parties of interest appropriately
The requestor is then securely e-mailed a copy of the report, in PDF format, 4 business days after it has been distributed
New York State Workers Compensation Variance/C-4 Authorization Evaluations are available upon request.